Full repair & log books service available in workshop with 'A' grade mechanics.
In City Motorcycles offer a fully equipped workshop. Our workshop manager has over 30years experience in the motorcycle industry and leads a team of factory trained technicians. Our helpful staff are happy to service all makes and models.
Get a service today!
Ph: (08) 9470 4446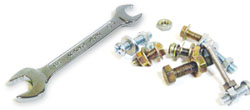 Selling Your Bike?
We are always buying used bikes so if you want to sell, drop by and chat to our sales manager. Even you live too far away to visit our shop,- no problem. We may be able to get to your place to pick up.